If you're looking for illustrated wedding invitations, you should definitely check out Basic Invite!
A few months ago I was emailed by an employee from Basic Invite asking if I would consider working with them to help brides find their illustrated wedding invitations. I hadn't heard of Basic Invite beforehand, although that isn't saying much since I'm not currently wedding planning! I was curious about them, though, because I definitely like to be able to recommend good vendors and companies to all of my brides as they plan (you can see more of my recs on the Details page of my website). I asked Basic Invite if they'd be willing to send me a sample of their illustrated wedding invitations, and they went a step further and allowed me to order not 1 but 6 samples through their website, as if I were shopping for invitations myself. It was an easy process to navigate through their website, and I was happy to see so many options for illustrated wedding invitations available. I mean there were hundreds! I picked the first 6 that really caught my eye, and had fun making them custom by choosing the design and color for the front and back of the invite, the type of paper they were printed on, and even the shape and color of the envelope. They honestly had every color you could imagine, and then different shades of that color on top of that! So step one–choosing, designing, and ordering samples–was a breeze. But how would they turn out in person? The package arrived at my house within a week and I opened it up immediately, excited to see how the illustrated wedding invitations looked. They were gorgeous!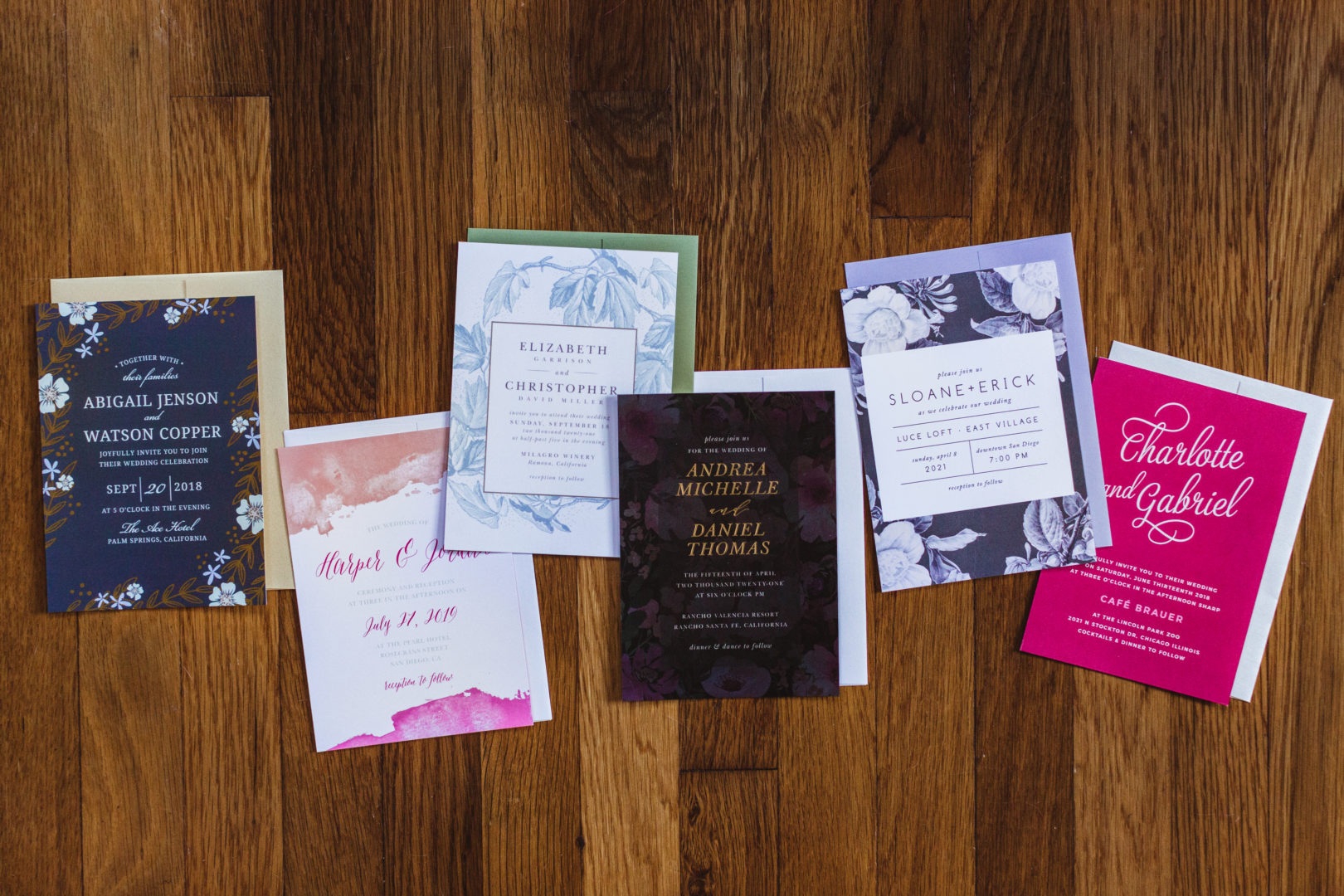 I loved my choices and all the different papers I ordered were high quality. I don't think you could find a better quality invitation suite with a company that makes the process so fun and easy anywhere else. So, I got back to the employee who had originally reached out to me and told her I would be happy to write a post for them. I really believe that their product would be one that my brides (you!), and any bride in the planning process (you too!), would be really happy with. Keep reading for more photos and information from Basic invite about what makes them so unique and worthy of looking into if you are planning your wedding!
Over 900 Wedding Invitation Sets
Each of the illustrated wedding invitations is part of a set. You can find everything from save the dates to wedding invitations and enclosure cards, wedding menus, wedding programs and even matching thank you cards!
Nearly Unlimited Colors
Basic Invite is one of the few websites that allows customers nearly unlimited color options with instant previews online. Once you select a design you can change the color of each element on the card to over 180 different color options, so you can make sure the card is exactly how you want it. This is what really makes Basic Invite unique compared to other online stationery companies.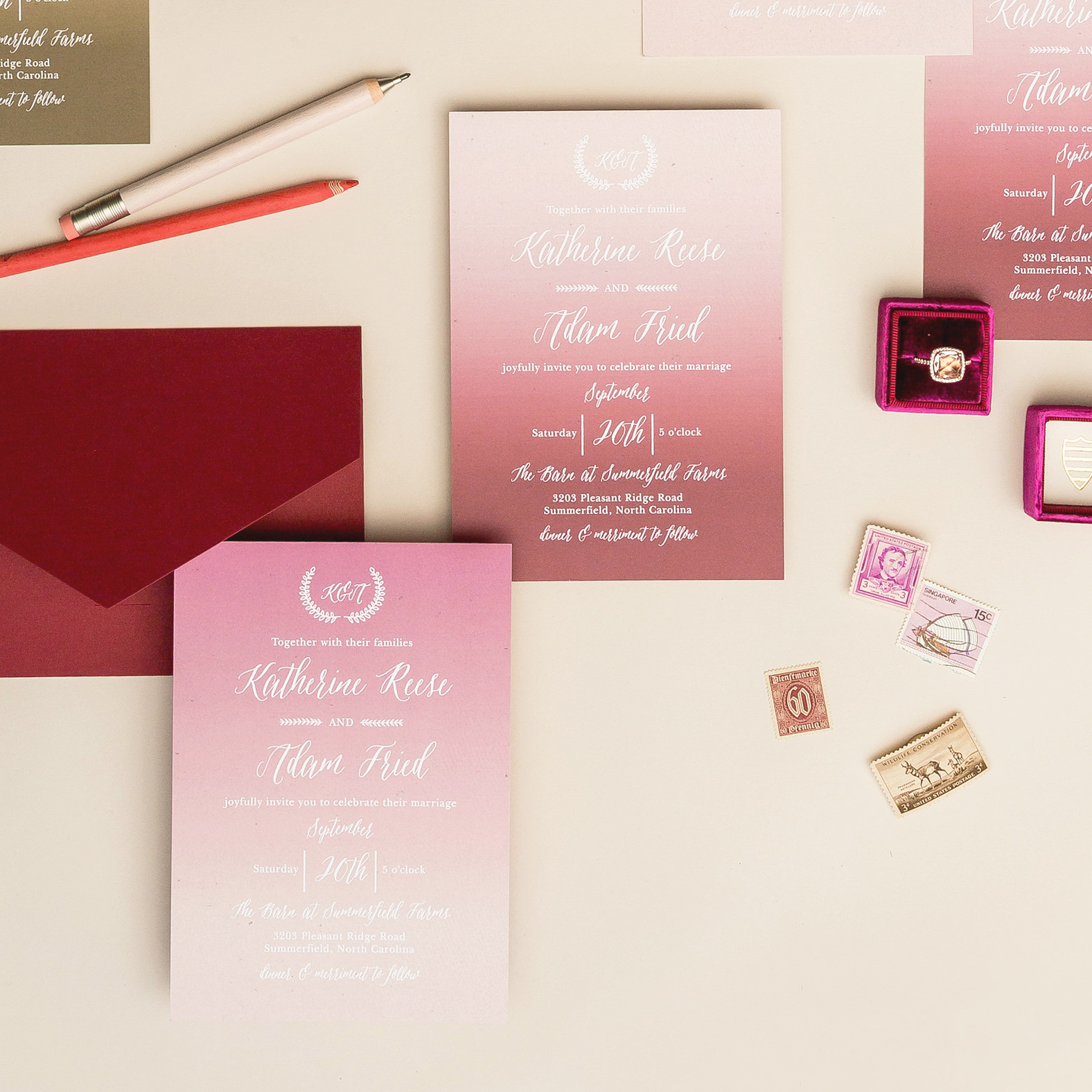 Custom Samples of Illustrated Wedding Invitations 
Basic Invite is one of the few websites that allows you the ability to order a printed sample of your actual invitation (yes, with your names and celebration info!) so they can see exactly how it will print. You can also feel the paper quality and decide whether you like it before you ever have to place your final order.
Over 40 Different Colors of Envelopes
Besides their huge selection of color choices for your invitation, Basic Invite is just as colorful with their envelopes! You can choose from over 40 different colors when it comes to their envelopes so that you invitation stands out even before it is opened. All of their envelopes are peel and seal, as well, so they can be quickly and securely closed. Say goodbye to licking 100 envelopes yourself!
Free Address Collection Service
This just seems like a huge bonus on top of everything else. Basic Invite allows you to utilize a free address collection service to request your addresses with just three simple steps. Share a link, collect addresses, and get free envelope printing.
Free Wedding Websites
A new feature, Basic Invite's wedding websites are also completely customizable, as well as mobile friendly and super easy to use. You can instantly upload all of your wedding details along with images and a map with directions to make things convenient for your guests. They have 180 custom colors and designs that match their wedding invitation suites!
Seal & Send Wedding Invitations
Okay, last thing is one of their coolest products: their Seal & Send Wedding Invitations are an all-in-one wedding invitation with a tear-off RSVP postcard included! The Seal & Send line is their newest collection, and they offer them in over 30 designs including foil options. They are also customizable and guest's addresses are printed on the front of each invitation which means no envelope necessary! All you have to do is share a link, collect guest addresses, and upload them onto your design, instantly. Once you receive your order, you just add postage, fold your invites, and secure them with a sticker! Simple, easy, and on point.
More stories? Sure thing…